Data analytics has revolutionized the way businesses operate and compete, enabling them to make informed decisions and innovate their products and services. As data volumes grow, so does the need for efficient data processing and analytics tools. With the integration of Sigma on Databricks, business users can now leverage the rich robust data available in Databricks with a familiar spreadsheet user interface that improves overall collaboration between data teams and business analysts and works across multiple data sources safely and securely. This blog explores how these two platforms integrate through Databricks Partner Connect to create a seamless data analytics workflow.
Sigma + Databricks
Sigma is a cloud-native analytics platform that provides a familiar front-end user interface enabling you to query, profile, visualize, and explore massive datasets stored and shared in leading data platforms like Databricks. Sigma directly connects to Databricks and a proprietary SQL-generation engine that translates user interactions on a familiar spreadsheet interface into machine-optimized SQL. Sigma unlocks the power of the Databricks Lakehouse Platform by providing speed, scalability and security with the flexibility to pivot billions of rows of data.
How do you get started?
Getting started is simple, all you will need is a Databricks account.
Navigate to your instance of Databricks and follow these steps:
Select "Partner Connect" within the menu bar
Search for "Sigma Computing" in the search bar


Navigate to the sub-window and configure what catalog, schema and tables Sigma will have access to then click "Next"


This takes you to a screen showing the name of the user, privileges and the autogenerated personal access token. After reviewing these items, click "Next" and "Connect to Sigma Computing".
From here, you create your Sigma trial instance connected to your Databricks account.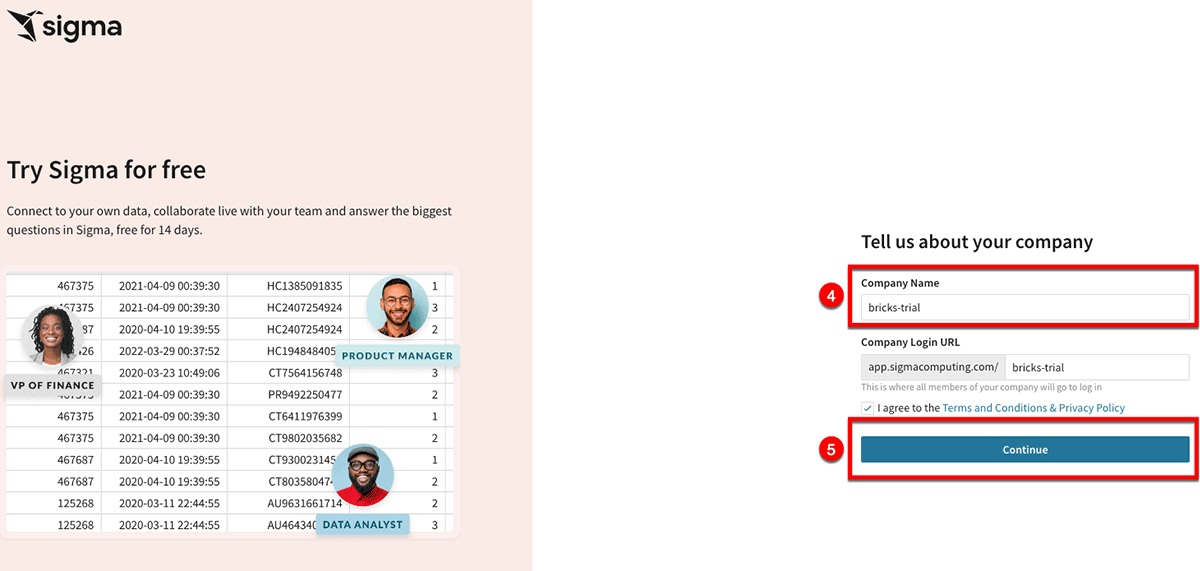 Start Exploring and Analyzing your Data
Once your Databricks Lakehouse is connected, it's time to start exploring & analyzing your data. Here are some of the ways Sigma makes it easy:
Drag-and-drop interface: The user interface is designed to be intuitive and user-friendly. Users can drag and drop data fields to create charts, tables, and graphs, without needing to write complex code or queries.
Real-time data analysis: Users can analyze data in real-time. This means that as they make changes to their analysis, the results are reflected in real-time, this allows for quick and agile decision-making.
Collaboration features: Users can now collaborate across teams in real time sharing worksheets, dashboards, comments and chats.
Visualizations: Users can create a range of visualizations with just a few clicks, making it easy to communicate insights to stakeholders.
Summary
We're excited to be offering the best of both Sigma and Databricks Lakehouse with this easy to use integration!
Integrating Sigma with Databricks through Partner Connect takes this one step further by providing users with a powerful data analytics workflow. Users leverage Databricks' data engineering and machine learning tools to prepare data and train models for Sigma to visualize and analyze. The ability to have Sigma read directly from the Databricks Lakehouse eliminates the need for manual data extracts, reducing the risk of errors and saving time.
To learn more about Sigma on Databricks, please download the Sigma on Databricks Best Practices Guide or visit our Sigma+Databricks page.